LIMB KIND: Story of Limb Loss
In 2010, an earthquake struck Haiti affecting approximately 3 million people. Roughly 250,000 lives were lost and 300,000 people were injured. While Haiti has struggled with poor health for generations, the health system was further affected by the 2010 earthquake, which demolished 50 health centers, part of Haiti's primary teaching hospital, and the Ministry of Health. 
This photo essay follows Nicole Lee Grehn, a Registered Nurse from Wisconsin, United States, and a Limb Kind Foundation Motivational Amputee Mentor. While visiting Haiti as an amputee mentor, Nicole, and members of Limb Kind's team, were invited by Mission of Hope's medical outreach program [MOPS] to join them as they made daily rounds of wellness checks in neighboring villages. Nicole is an above the knee bilateral amputee. When patients saw her ably walking to their front doors in her prosthesis, they were surprised to see her, as well as to discover that she was going to be their attending nurse for the day. After a moment of introductions, patients quickly opened up to Nicole, as she checked their vital signs and prescribed medication, while engaging each patient in meaningful conversation. Her primary role with Limb Kind's team was as an amputee mentor for the children receiving prosthesis, but by participating the medical outreach program as a nurse, she happened to become a community role model – an example of how to live a full life – regardless of one's challenges. Nicole demonstrated to community residents and the children of Haiti, that nothing should stand in their way from achieving their goals. 
Images from this photo essay were taken on February 3rd through February 8th, 2019, in Ti Tanyin, Ouest, Haiti.
Just nine miles northwest of Port au Prince, Haiti is the colorful port village of Lafiteau. The Mission of Hope medical outreach program visits this community a few times a week for wellness checks on a quadriplegic patient. Unlike previous visits, on this day the medical team had three incredibly dynamic and high functioning amputees with movie star good looks. 
Lafiteau Village, Haiti on Feb. 6, 2019
.
Wellness checks in the port village of Lafitea.
The villagers were wary of them, until they saw Nicole Lee Grehn, a bilateral above the knee amputee and registered nurse, walking towards the patient's home. The patient's aunt said, "Every time someone from North America visits, the neighborhood has the same problem with them and they feel uncomfortable. Sometimes they feel bad that they aren't perfect or pretty in Haiti, but when they saw that Americans aren't perfect too, they felt more comfortable. I'm so happy, because you came here to show the kids how important it is-- how meaningful life is for them even if they aren't perfect."
Limb Kind Team, with neighborhood children in
port village of Lafiteau, Haiti on Feb. 6, 2019
.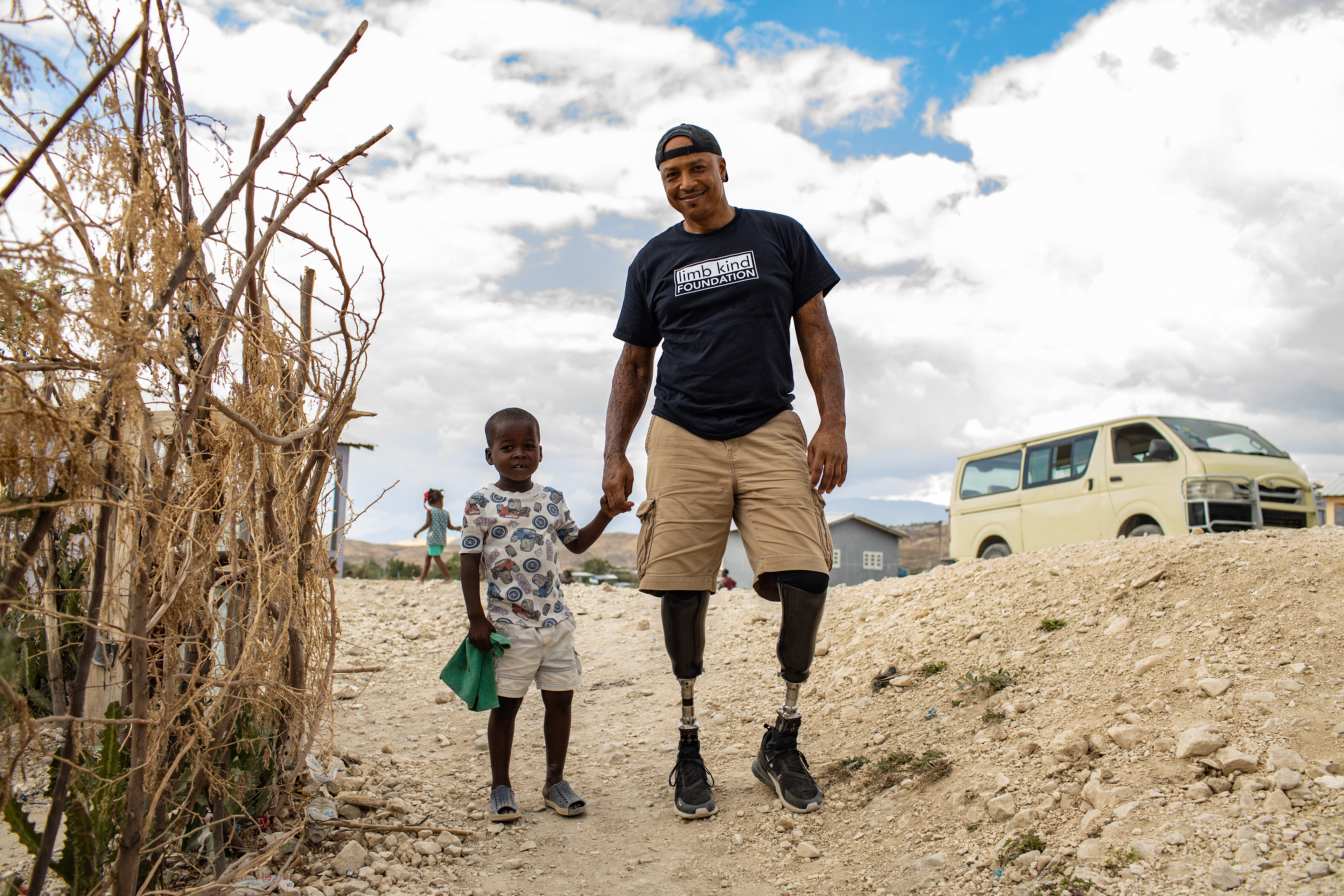 Reggie Showers, Amputee mentor with neighborhood child in
port village of Lafiteau, Haiti on Feb. 6, 2019
.
Reggie Showers, Amputee mentor with neighborhood children in
port village of Lafiteau, Haiti on Feb. 6, 2019
.
Nicole Grehn was the attending nurse one day for all of the in-home wellness checks in the villages in the Cabaret district of Haiti. Each patient Nicole interacted with truly connected to her.
 When the team reached Parnell's house, Nicole went right to work. Extending her hand with a broad smile, immediately setting the patient's family at ease. After performing a wellness check on Parnell, Nicole struck up a conversation with the help of a translator, and the two became friends, exchanging social media contact information. They have been in touch ever since. Nicole said, "If I can change two people's lives and make them feel they are not alone in this world, and that there is a future ahead of them, even though they had a setback—and that can totally change their life and their perspective of life and their perception of what their purpose is—then I am winning. Then I am fulfilling my purpose you know, to give more than I get."
Nicole gives Neïssa, a bilateral above the knee amputee, the confidence she needs to walk on her prosthesis at the Mission of Hope Prosthesis
 in Ti Tanyin, Ouest, Haiti 
on 
February 8th, 2019.
Robert Schulman, prosthetist and founder of Limb Kind fit Neïssa's prosthesis and guided Neïssa through her first steps with Nicole encouraging her along the way, "Look up. Look up! That floor is not going anywhere. You're doing great!" 
The day the Dejean family arrived to have Neïssa measured and cast, Neïssa's mom said, "This is her first time walking with prosthesis... She is incredibly excited about getting her independence from her prosthesis. She knows she has a lot to learn about using her prosthesis and cannot wait to start learning right away." 

The Dejean family almost didn't make it on fitting and receiving day due to civil protests and blockades in the streets of Haiti. Nicole eagerly texted Mrs. Dejean and cheered when she got a reply, "We tried to come earlier, but the doors were locked. We are on our way now!" Two and a half hours later, family did not show. The team reluctantly closed up shop and started to leave, until the team saw in the distance a minibus and two motorcycles riding towards them in a plume of dust. Neïssa and her parents were on one of the small motorcycles. The whole team cheered. Nicole was there to greet them and walk with Neïssa into the clinic.  

​​​​​​​
Nicole dropped to her knees in her prosthesis to be at eye level with Neïssa, she wanted to speak directly to her, so instead of having the translator speak on her behalf, Nicole ask "How do I tell her I'm proud of her?" The translator gave her a one word response, and with her mellifluous and forthright voice Nicole said, "fyè." Proud. Later Nicole shared her concerns, "I'm worried now, that —she's afraid—which is normal—but when you're afraid back home you have physical therapy three days later and you don't have a choice but to at least try to put them on. And I'm just worried that she's not going to wear them, because she's nervous and doesn't have access to the same care. I wish this trip were long so that I could spend one on one time with her."
On the first day they met they shared an immediate connection. Twenty-eight year old Nicole Grehn, RN of Wisconsin, USA and eleven year old, Neïssa Dejean of Haiti are both bilateral above the knee amputees who experienced profound traumas which would shape each of their lives. In 2015, Nicole lost both of her legs in an emergency amputation after she went into cardiac arrest due to catecholaminergic polymorphic ventricular tachycardia—an inherited gene mutation that went undetected her whole life. In 2010, when she was an infant, Neïssa lost both legs above the knee as a result Haiti's devastating earthquake. Neïssa has never walked in prosthesis her whole life, but she taught herself to walk on her hands. Nicole has been an amputee for four years and has mastered use of her prosthesis, while continuing her studies, becoming a nurse practitioner. Nicole said, "It was totally a personal connection. At some point it was hard for me just to separate, and I held it together until I left." This project documents the impact limb loss has had on some of the children of Haiti and the limited access Haitian children have to the personal independence and freedom prostheses provide, as well as, spotlight Robert Shulman and his Limb Kind team, comprised of amputee survivors & mentors, prosthesis technicians, and medical professionals-- all in an effort to bring new hope to children through their volunteer efforts to make the dream of freedom a reality.