In the Philippines, children are sold into domestic servitude and the cybersex trade by human traffickers. These traffickers deceive children into believing that they will have a better life. Many victims come from rural, mountain villages and are intrigued by the promise of a well-paid job. They believe they are leaving their impoverished lives for an opportunity to earn money, but instead, become entangled in a nightmare.
"Children Living in Perpetual Invisibility
"

sheds light on the plight of children who are sold into domestic servitude and the cybersex trade in the Philippines. The project aims to amplify the voices of human trafficking survivors on their journey to healing and recovery. The project demonstrates the daily life of rescued Filipino girls who live in a long-term shelter where they receive psychological care and learn life skills.
Child domestic workers are expected to do adult work and suffer extreme physical, verbal, and sometimes sexual abuse. They are deprived of opportunities for schooling and self-development. Their vulnerability is consistently exploited, and they have no immediate outside contact or support network.  
There is a disturbing power dynamic between the child and the employer, who exercises guardianship and stewardship over the child domestic worker.
Cybersex trafficking is the other sinister form of modern-day slavery in the Philippines — the live sexual abuse of children streamed via the internet. Controlled by adults who collect money through online transactions, children are directed in real-time by a predator located anywhere in the world. Unlike in many street-based sex trafficking cases, criminals directing this live abuse are specifically looking for young children. The customers use chat rooms and messaging services to purchase and/or trade child pornography or to make connections with sellers located in a country like the Philippines who can offer a child to view live. Customers wire a secure payment online, anonymously and easily, to the trafficker in the Philippines.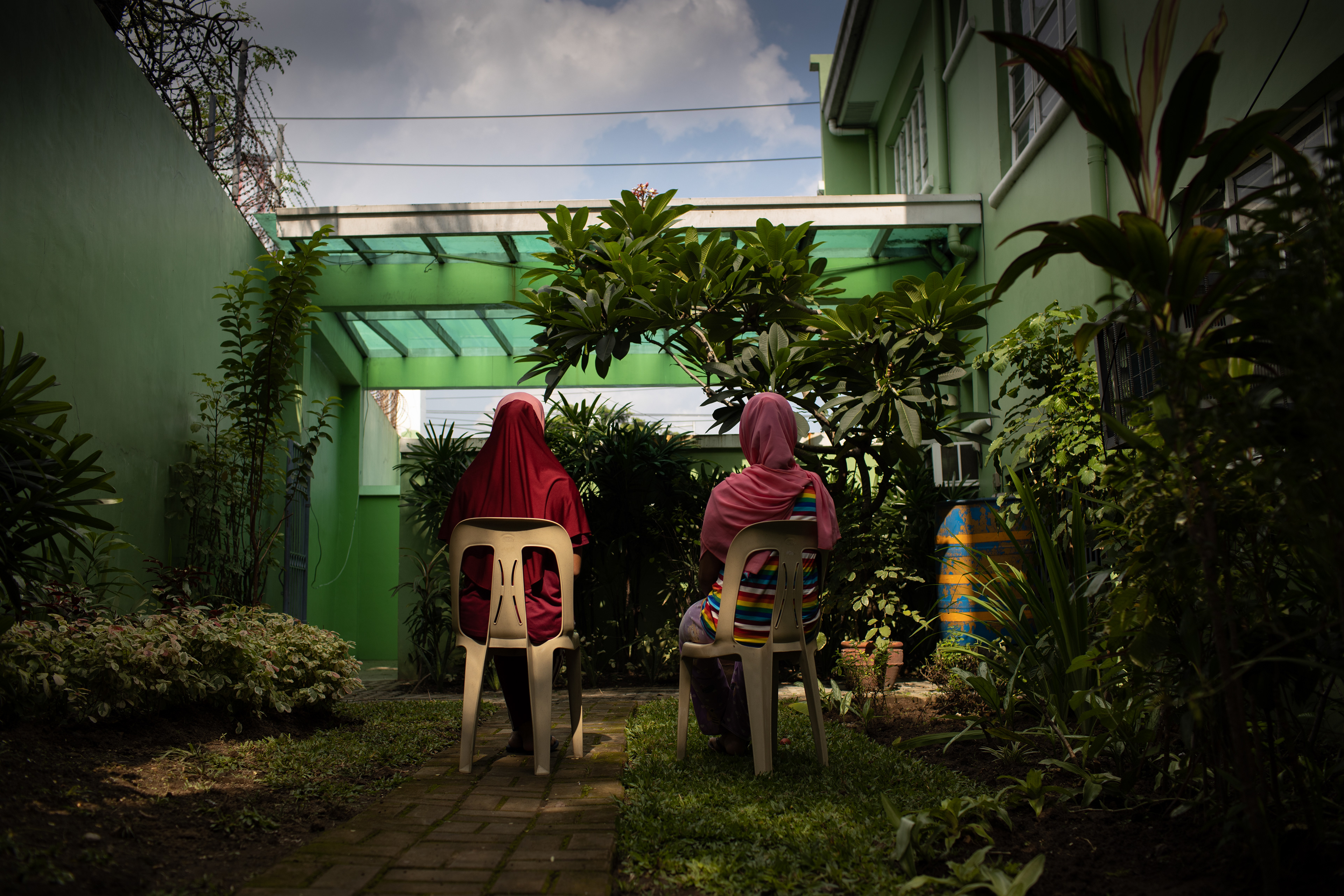 Two trafficking victims sit at an outdoor garden at a shelter, they were rescued by the Bureau of Immigration before their flight to Saudi Arabia, where they were set to work as child domestic workers. Both girls, who are minors, were recruited by the Mayon Recruitment Agency and are under the lawful age to work abroad a 
domestic help. According to the Philippine Overseas Employment Administration (POEA) policy, only women ages 23 and above can work as household service workers abroad. The employment agency is being investigated on human trafficking charges.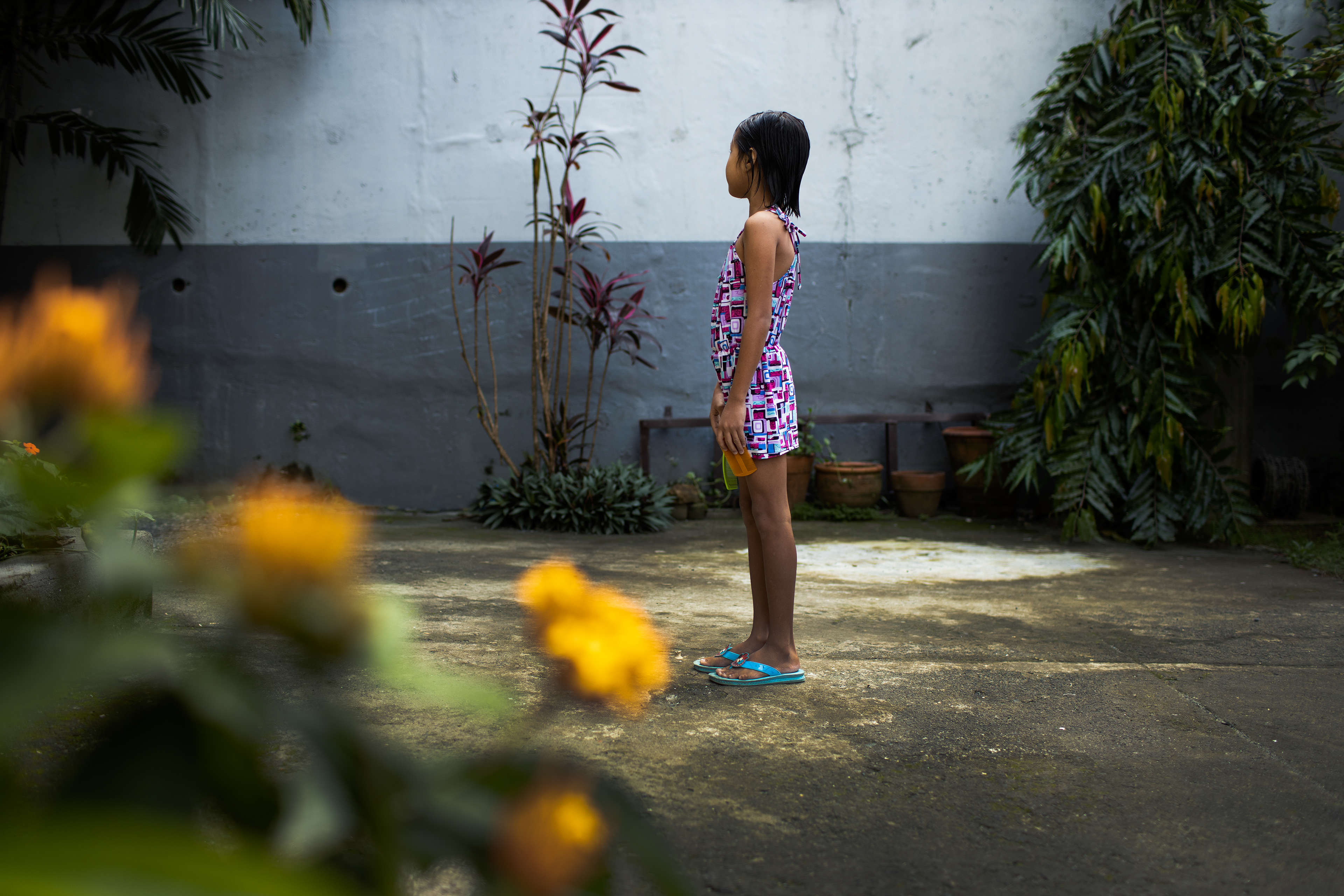 Mary-Anne (not her real name), age nine, combs her hair after taking a shower at the Center of Hope shelter for human trafficking survivors. She was admitted to the center under protective custody after reporting that she was sexually exploited by her father. Mary-Anne is pursuing the legal case against her father and remains courageous testifying in court hearings. She is currently receiving counseling sessions with a psychologist and attending school. She loves to draw and she has a beautiful singing voice.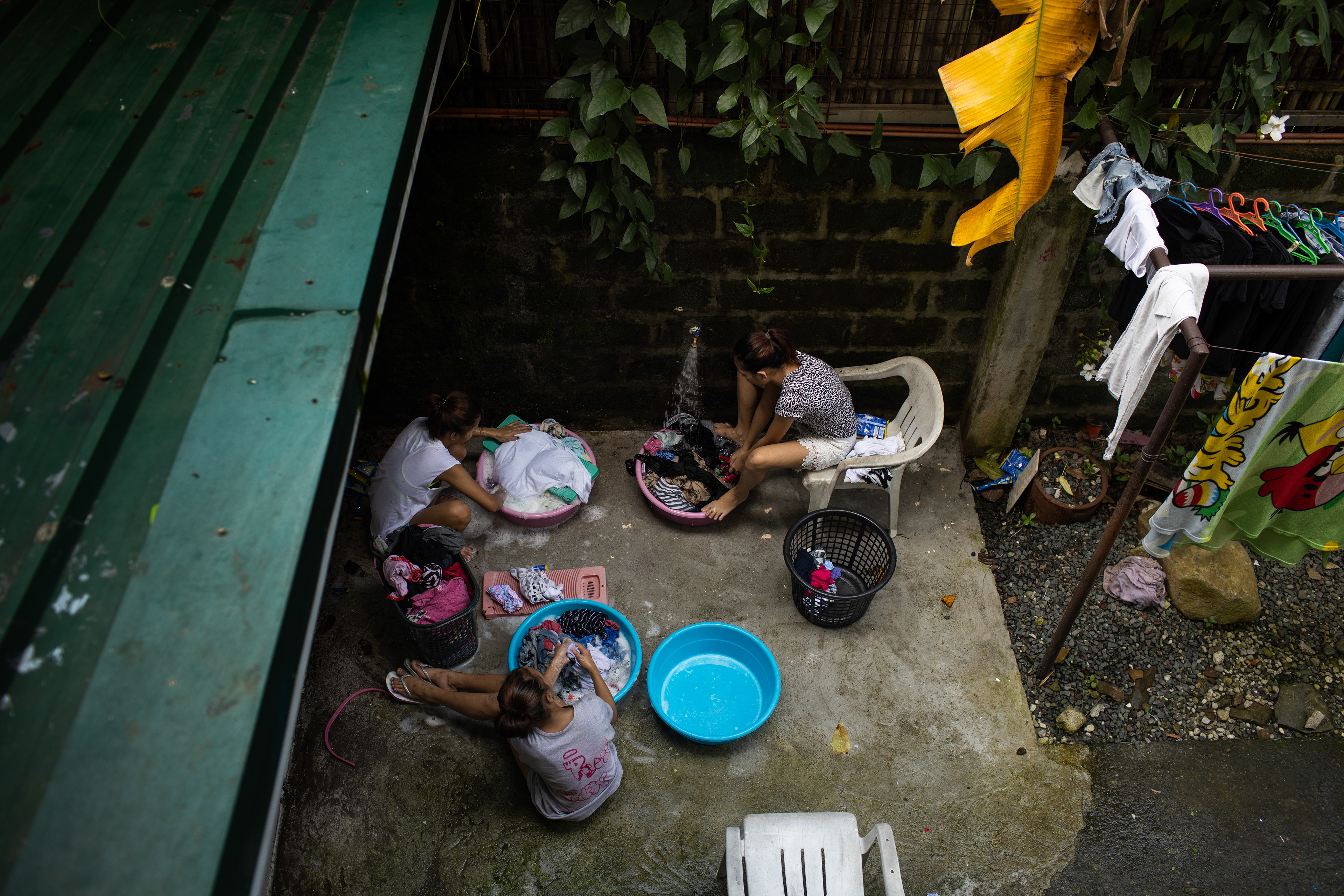 Three survivors of cybersex trafficking do laundry in long-term living facility Center of Hope. Here, they receive shelter, psychological services, child welfare case management, education, life skills lessons, legal protections, advocacy support, and group wellness activities such as art, karate, tennis.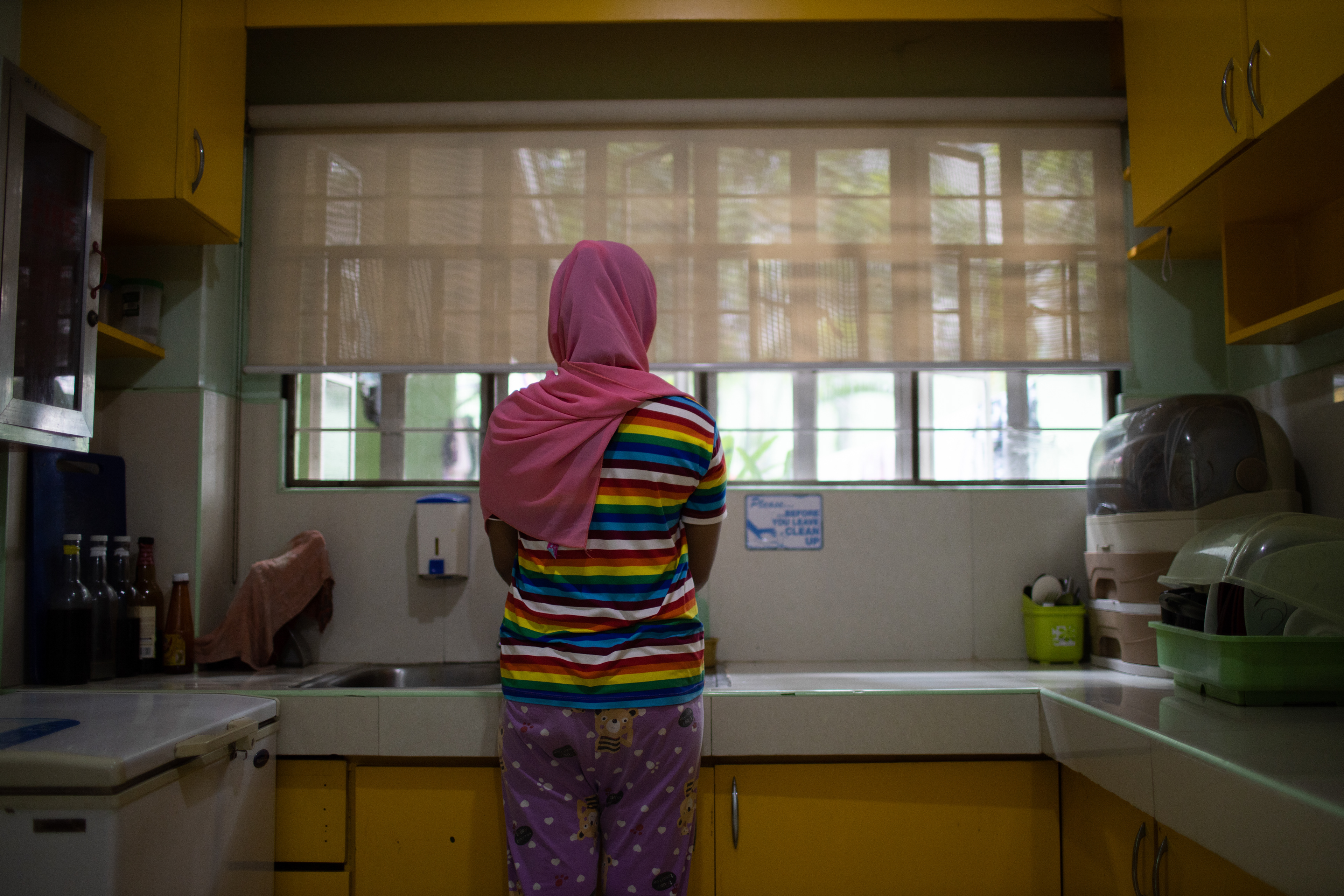 Ramey, a victim of child domestic work, washes dishes at a shelter for human trafficking survivors. Ramey was rescued from an abusive situation where she was on call 24 hours a day without a wage. She worked tirelessly, perfuming domestic chores including washing dishes, cooking, cleaning the house, and looking after young children. In the Philippines alone, there are an estimated one million domestic workers, most of whom are children and some who are as young as 9 years old.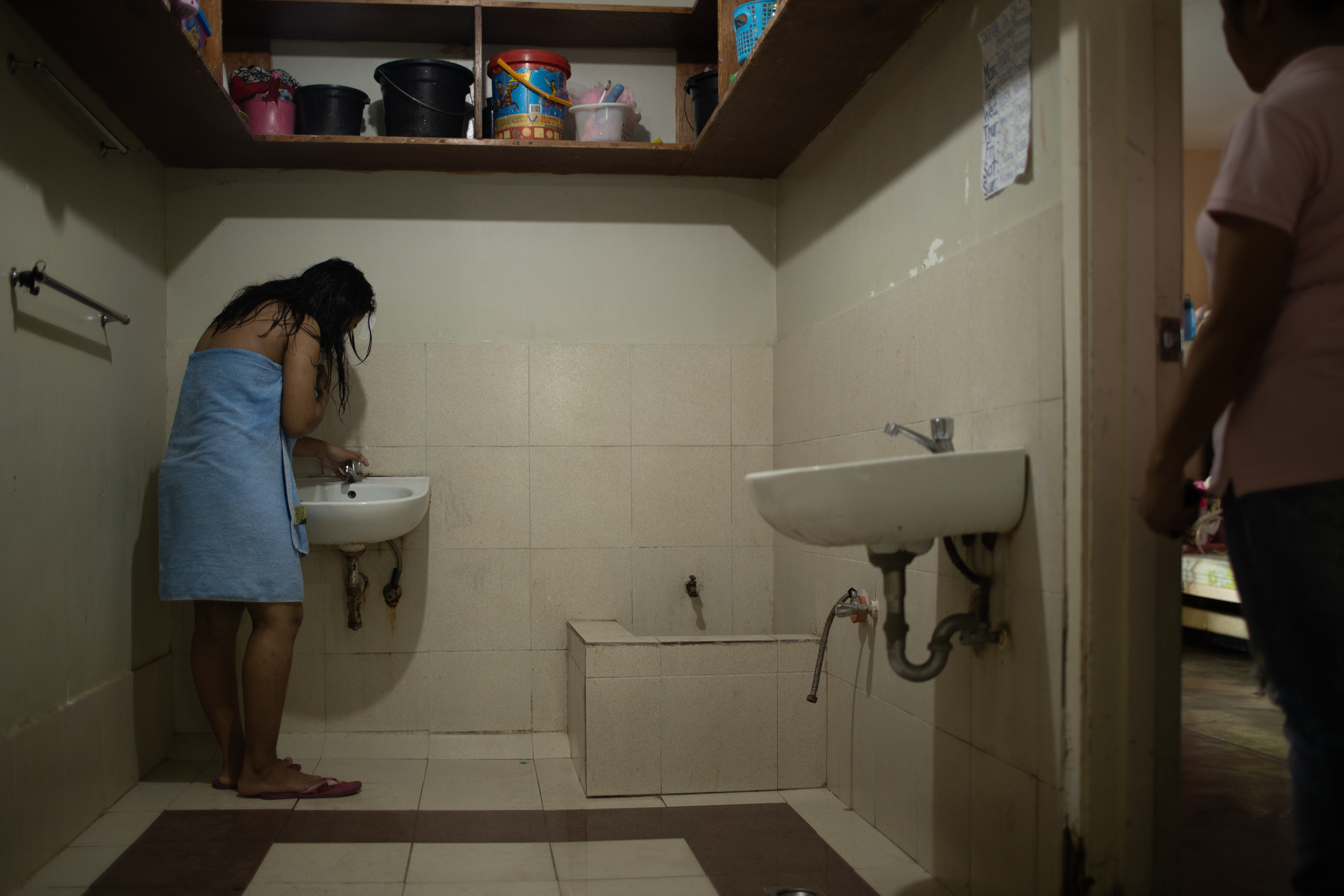 A teenage trafficking survivor brushes her teeth under supervision from the shelter's house mother. Many survivors of human trafficking suffer from post-traumatic stress, depression, and experience thoughts of suicide after being heavily traumatized.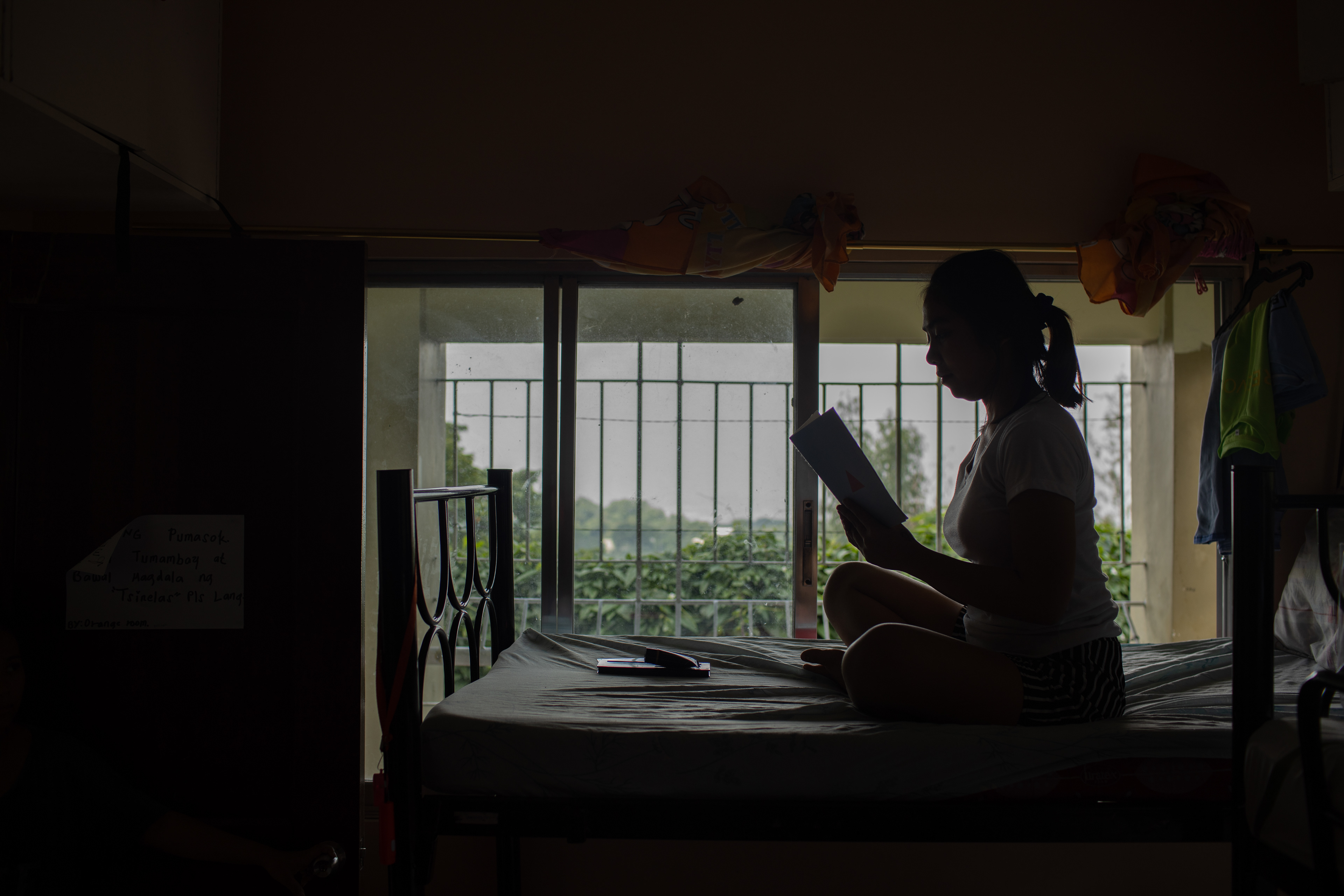 Florence reads on her assigned bed at a shelter for human trafficking survivors outside Manila, Philippines. She says reading is therapeutic for her, as it keeps her mind off of things, she wishes she could forget about. Florence is a survivor of cybersex trafficking. After being exploited by a family member at age 10, she says she finally feels safe but still has reoccurring nightmares.
All but a few cybersex trafficking cases involve children being abused by relatives or family friends, and half of the victims are aged 12 or younger, says Voice of the Free representative Roland Pacis. (Manila, September 25, 2019)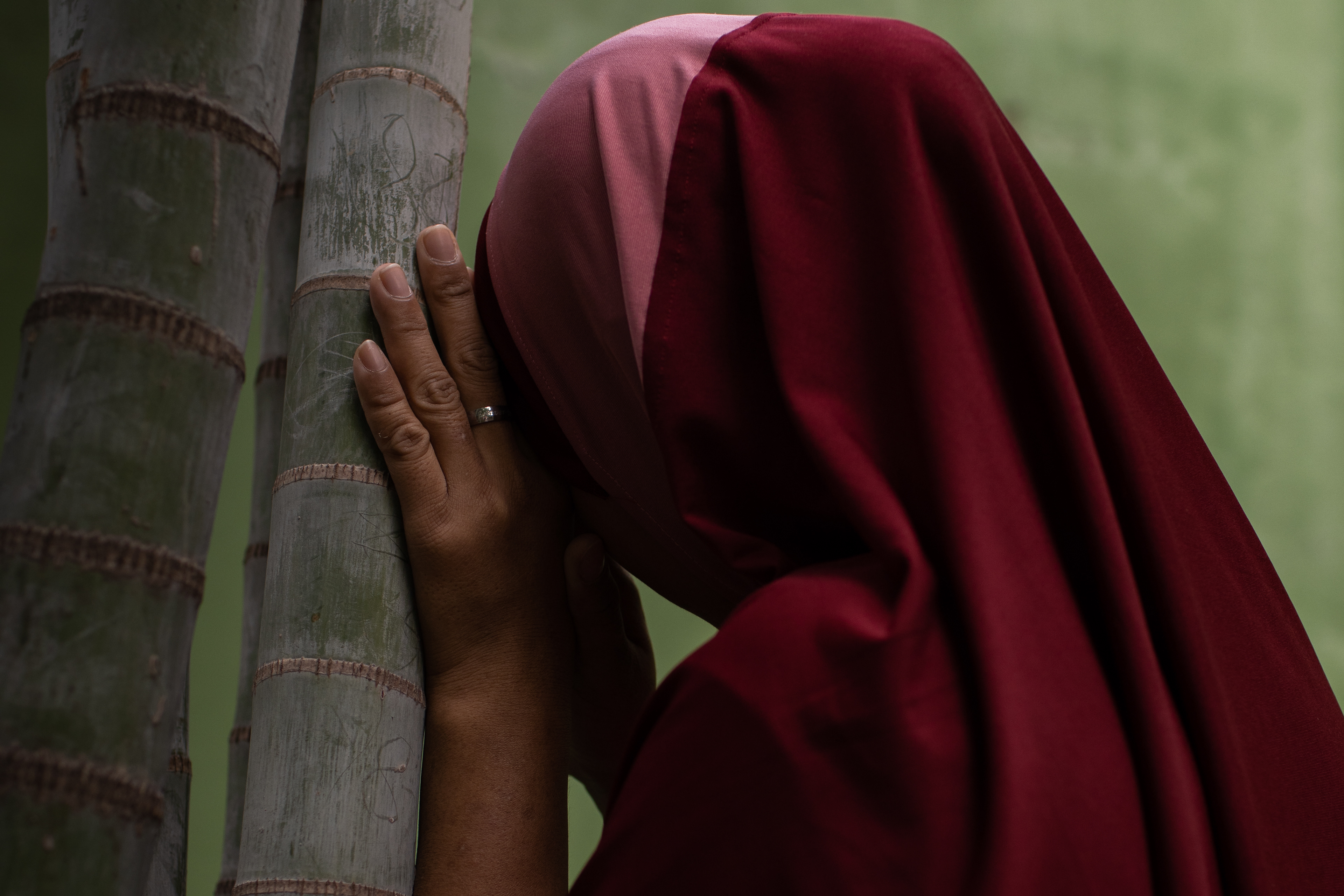 Ira worked as a child domestic worker for more than three years before being rescued by Voice of the Free. Like most child domestic workers, she had no work contract, benefits, or access to health services. Throughout her ordeal, Ira was verbally, physically, and sexually abused.